Spring User Group Conference
It is User Group time again. We are delighted to announce the schedule for this years User Group Conference. We have a lot of new and exciting features to share with you. We look forward to seeing you again this year.
May 09
- Bangor, ME
@ Spectacular Event Center
May 16
- Concord, NH
@ Holiday Inn *NEW VENUE
TBD

**

- S. Royalton, VT
@ TBD

**

TBD

**

- Watertown NY
@ Ramada Inn

**
** Dates and Locations are not yet confirmed.
Use the links below for detailed information of topics covered, the cost and the Registration Forms:
- User Group Information (PDF)

- Online User Group Registration Form
---
New RTI / Enrichment Module is now available.
You asked for it and you got it! A new module to track RTIs and Enrichment is now available for all schools. Using this module, Teachers and Administrators can:
Schedule students into RTI / Enrichment blocks on a weekly basis.

Check current grades before assigning Student to an enrichment block.

Group student to easily schedule them from one enrichment block to another.

Take attendance for the scheduled students in an enrichment block

Block off days where they are not available to be scheduled for enrichment

Print reports of Students RTI / Enrichment schedules for the week.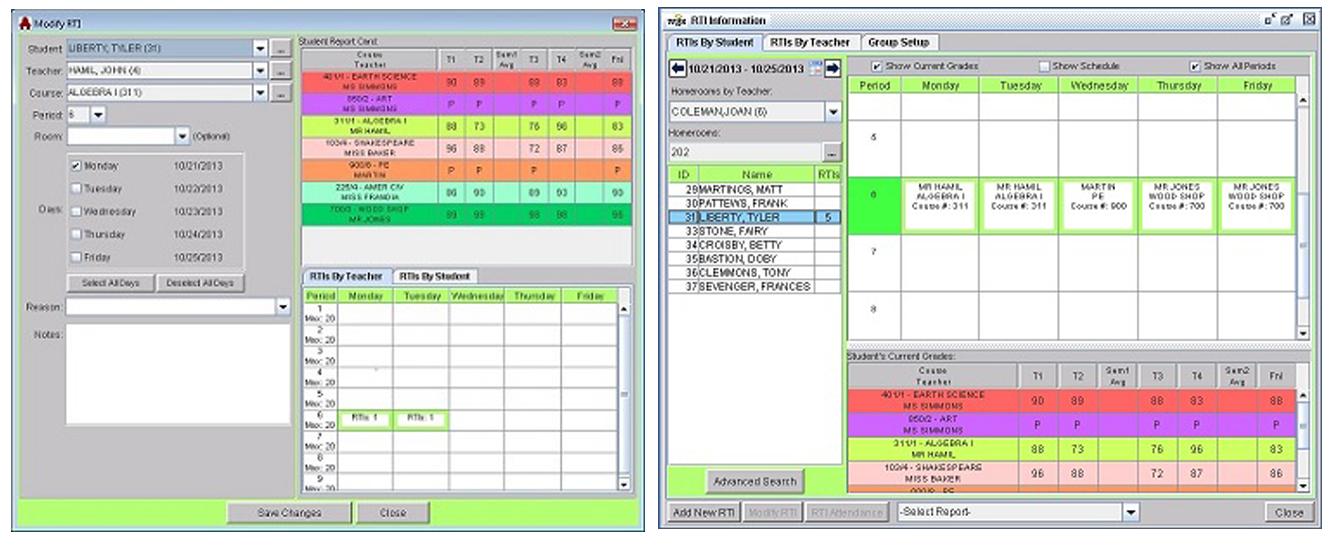 The other salient features in this module are:
Seamless integration with the existing student schedule as well as display in the Parent Portal.

Color coded

views for easy identification of default Enrichment blocks

Set maximum size for Enrichment blocks. Teachers can override this when they add students to their Enrichment blocks

Add additional documentation per student or groups when scheduling them for Enrichment blocks.
Contact Web2school support for a demo or more information.
---
Web2school Mobile Apps has been released!!!!
Web2school has released the web2school Mobile Apps for the Android and iOS platform. These apps have been certified and now avaliable in the Apple iTunes and Andrroid Playstores. Web2school has also available the Web2school Mobile platform for schools and district wide consumption. This platform lets the Web2school Mobile apps to connect to the server for data entry and management from any Android and Apple mobile device.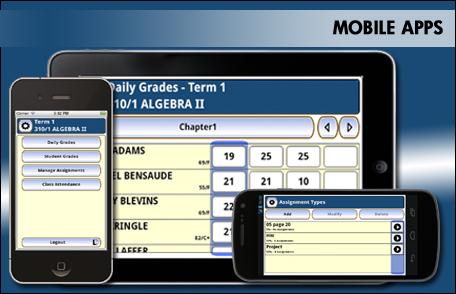 The first app developed for this purpose is the Grade Book App for Teachers. Using this app,teachers can view their classes and rosters, manage assignment types and assignment, enter Daily Grades, view Term Averages, enter Assignment Notes for an assignment and take class attendance. This app is available for general download from the Android and Apple app stores. We are also working on making this available on the Amazon Marketplace for Kindle and Windows Marketplace for Windows 8 mobile devices soon.
Other apps in the pipeline:- Discipline, Attendance and Student Management. Click here to get more detailed information.
NOTE: While the Apps themselves are free, the mobile platform (which enables to securely access the data from the web2school server) would need to be purchased by your School or District. Please contact Web2school Support for more information.
---
Custom Back-Office Service
Web2school has released a new service to provide schools with a back-office solutions to generate, print and mail Report Cards, Progress Reports and Circulars. These are custom reports which will be generated as per the school's requirements along with Graphs and Charts outlining the progress of the students.
There will be 3 levels of service offered:
Generation of Reports in PDF format and emailed to schools
Generation and Printing of the reports and delivered to school for mailing.
Generation, Printing and Mailing of reports directly to parents and or guardians.
In addition, these reports can be made available through a portal for the parents to view them online.
Please contact us for additional details and pricing information.
---
CBSE CCE now fully supported
With the latest release of web2school, the new CBSE CCE data entry and report card generation is fully supported. Formative and Summative Assessments are automatically calculated based on teacher selections. Teachers can choose enter the daily classroom assignments like Homeworks, Projects etc and have the system automatically calculate the Formative Assessment Marks and averages with the Exam (Summative) Marks to give an overall average. Co-Curricular activities are also averaged based on assessment selections for each student.
All reports cards specified by CBSE can be easily generated with a few clicks in the system. Reports cards supported are for Stds I - V, Stds VI - VII and Stds IX - X. The report cards display in PDF format for easy printing or mailing.
Parents and Student can access up-to-date and real-time information about the Formative and Summative Assessments and in addition also view the Report Cards.
CBSE CCE Summits
Are you CCE ready?
Web2school is conducting summits in many major cities throughout India to educate and demonstrate administrators and teachers about the upcoming changes to CCE reporting. There will be demonstration of the turnkey solution provided by Web2school to enter and automatically generate the CCE reports for each grade level.
Call +91 91761 09693 or email sales@web2school.co.in to register.
Seats are limited. So Hurry!
---
Transportation Module is released for General Availability
For enabling complete end-to-end administration of schools, web2school has now released the Transportation Module for general availability. With this module, user will be able to track vehicles, operators, maintenance, configure stops, configure routes, assign stops to routes, and schedule bus routes. In addition, there will be an interface with Google maps for easy route planning.
Manage Vehicle Maintenance Records

Vehicle Operator Information
Customizable fields to track additional Vehicle information
Track Stop Information like location and GPS coordinates
Route Configuration
Assign Stops to Routes
Assign Routes to Vehicles and Operators
Assign Students to Stops

Assign Personnel to Stops

Comprehensive Reporting
---
Fee Module Now Available:
Under popular demand, WGS has now made Fee module to be general purpose and released the module for All schools. This system allows the setting up of Payment Types (Annual, Monthly etc), Fee amounts, frequency, Due Dates and Payment Methods based on school requirements. These fees can then be assigned to one student or a group of students. The payments made to these assigned fees can now be tracked per student or for a group of students. Detailed reports about the assigned and pending fees can be generated for one student or a group of students
---
Other Modules In Development:
More Mobile Apps
New web2.0 based User interface
Moodle Integration
Instructional Management
Library Management Integration
Cafeteria Management Integration